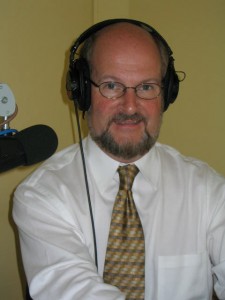 Peter B. Collins is burdened with too many opinions.  He follows news and politics to a degree that one friend calls "borderline obsessive" and the Peter B. Collins Show is his therapy.  From San Francisco, he brings you his views and analysis on important national and international issues, and interviews political leaders, journalists, authors and others who know more than he does.
Peter B. grew up in Cincinnati, and in high school he and his buddies built a closed-circuit campus radio station.  He went to Northwestern in Chicago, and a few years later he was hosting the late-night talk show on WLS-FM (WDAI), which rose to #1.  He moved to the Bay Area in 1976 as a DJ and talk show host on KOME in San Jose.  In the late 1970's he was a weekend talk host at KGO in San Francisco, the market leader.  For most of the 1980's he was morning personality at KRQR, The Rocker.
In 1989, he returned to talk radio at KNBR, where he was the token liberal and followed Rush each day.  He followed that with an afternoon stint on KSFO, before it was sold into right-wing demagoguery.  He was a satellite radio pioneer on Sirius 2003-2004, and hosted the syndicated Peter B. Collins Show from 2005-2009. He is part owner of progressive talk station KRXA in Monterey, California.
Between and during radio gigs, Peter B. operates Collins Media Services, offering consulting services and development of radio programs.  He produces the parenting programs Childhood Matters and Nuestros Niños, the author interview program Conversations on the Coast, and Nurse Talk.
Peter B. can often be found sailing on San Francisco Bay or expanding his knowledge of wine in the Napa Valley.  He lives north of San Francisco and never expected to be in love with a fluffy little dog like Rocky.
peter@peterbcollins.com